CASA of HoCo Advocate of the Year - 2019
MEET Teshia G.
"CASAs in Houston County are welcomed and appreciated by Judge Edwards, GALs, DFCS caseworkers, and DJJ officers. We are really part of a larger team working together to serve the children in our area."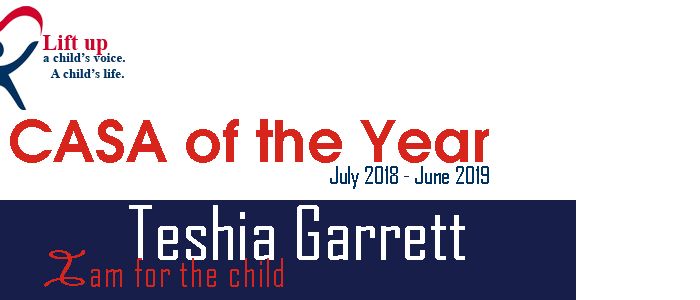 HOMETOWN - Macon, GA
BIO Coming Soon...
Staff perspective:
Teshia's voice is a powerhouse, and she embodies "thick skin."  Not only is she our Advocate of the Year but she is also considered the "Rookie of the Year."  She has been an advocate for a year now, and ALL of her cases have had her on opposing sides fighting against the current of what many of the interested parties in the cases wanted.  She never wavered on "best interest" of the children, despite what others were saying was in the child's best interest.  Her booming voice and unwavering approach is why she is an advocate that the Department of Family Children and Services call upon often.  They understand that we don't have to agree in order to collaborate.  Teshia's advocacy has strengthened our collaboration efforts across the board.  We are privileged to have her be part of our team"