CASA of HoCo Advocate of the Year - 2013
MEET GENE G.
"I would recommend becoming a CASA to anyone who really wants to make a life changing difference in a child's life. It's not a hard thing to do, doesn't take a huge amount of time, and you could easily be the difference in a child having a productive and successful life, or a life of living on the streets. ..."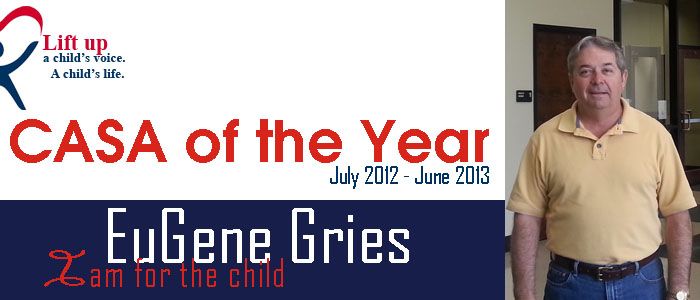 HOMETOWN - Longmont, CO
The first time I moved to Houston County was when I was assigned to Robins AFB in 1995 while active duty in the Air Force. I stayed until I retired in 1998, then I moved to CA. My wife and I loved the area so we moved back here in 2005.
I have an associate degree in Aerospace Systems Technology from the Community College of the Air Force as well as an FAA Airframe and Power plant certification. In my free time I like to camp and golf but mostly I like to take motorcycle rides on the back roads of GA with my wife, Faye.
I went into the Air Force in 1972, spent 26 years active duty primarily in the aircraft maintenance career field, and retired as a Chief Master Sergeant in 1998. I then became an Air Force Civilian working at Beale Air Force Base, CA as the on-site Weapon System Liaison Officer for the U-2 Directorate at Robins AFB. After 7 years I moved back to Warner Robins and worked as a defense contractor. After almost two years as a contractor, I became an Air Force Civilian and worked in the Global Hawk Sustainment Office on Robins AFB. For the past year and a half I have been in the F-15 Foreign Military Sales Branch at Robins AFB.
As a CASA, I have advocated for four children (four cases total). My first child was a 17 yr. old male who had been abandoned by his family. This kid had no hope for the future and a strong sense of not being wanted. He transitioned out of care and is struggling to find his way. I'm honored to say that I'm still a part of his life and voiced that he is somebody, and he is worthy, and wanted. I speak life and hope where the way may seem dim. I'm advocating for another young man who is 11. He struggles with anger and the need to belong. I have another young male who is 15 and has been reunited with family.
Q: How did I get started with CASA ?
A: I had seen commercials on TV for CASA in the past and for a couple years I thought it would be a good thing to do, but I had time constraints. With a job change a while back I had more free time in evenings and on weekends. We were also doing a series at our Church on what we should be doing with our lives.  I had been thinking about CASA off and on and finally decided it was time to make a difference to a child.
At first being a CASA seems like a daunting task because of the opportunity to make such a huge difference in a child's life and a fear of making mistakes. Over time however, you realize that learning is a continuing experience and even if you make a couple mistakes, the positive impact you will make on a child's life makes it all worthwhile. Being a CASA can also be frustrating at times because things seldom happen as fast as you would like. Time seems to pass a lot slower for kids and a week can seem like forever.  When things finally come together though, the child benefits and that's what it's all about.
Q: Why do you keep taking cases?
A: Because of the need. I can imagine what kind of situation the two children I work with would be in if I wasn't there to watch out and speak up for them when needed.  I know I've made a difference to these four and wish I could do more for others. It's heartbreaking to know that there are so many kids out there who really need someone to speak up for them who have nobody there for them.
From my perspective, being a Court Appointed Special Advocate means that I will speak on their behalf and advocate for what's in their best interest whenever the opportunity presents.  As an unpaid and totally independent volunteer, a CASA has no agenda other than what's best for the child they advocate for.  As a CASA I'm able to speak my mind to explain what the child wants and what's in their best interest, even though they may not always be the same thing.  I also need to say that in my experience, Judge Edwards, of the Houston County Juvenile Court, really wants to hear from the CASAs and makes a point of asking for our input.
The training process for CASAs is very thorough and provides the tools needed to get a good start with your first case.  The continuing education is good way to learn new things that are more specific to the age range of the children you advocate for. It's also a good way to learn from the experience of other CASAs. I try to pick the brains of other volunteers whenever I get the chance.
Since becoming a CASA, I've gotten a whole new appreciation for those who work full time trying to help kids in the foster system.  From the folks at DFCS, to those who work in the Group Homes, to those working in the Department of Juvenile Justice, it takes special people to devote the time and energy I've seen them put forth working with these kids.  I'm very thankful that they do what they do.
I would recommend becoming a CASA to anyone who really wants to make a life changing difference in a child's life. It's not a hard thing to do, doesn't take a huge amount of time, and you could easily be the difference in a child having a productive and successful life, or a life of living on the streets. Although being a mentor is not a main focus of being a CASA, you can't help but become one.  You will run the full range of emotions as a CASA,  but I have to say it's turned out to be one of the most rewarding experiences in my life.
Staff Perspective:
Gene is truly a special volunteer.  Ever since he completed training, he has been going non-stop.  And because he is a volunteer, it makes all of his efforts all the more inspiring.  His dedication and commitment to his cases is indeed noteworthy.  Distance does not deter his advocacy efforts.  Gene has traveled thousands of miles visiting his "kids", often times outside of Houston County.  Staff appreciates his ability to be in court for his case hearings, keeping updated training hours, the timeliness of his Court and Advocacy Reports, maintaining faithful visits, and most importantly being a person that his "kids" can rely on. Gene, we salute you!