CASA of HoCo Volunteer of the Year - 2010
MEET LILLIAN W....
"When satisfactory resolutions are reached, the "warm fuzzy feeling" I get makes it all worthwhile!"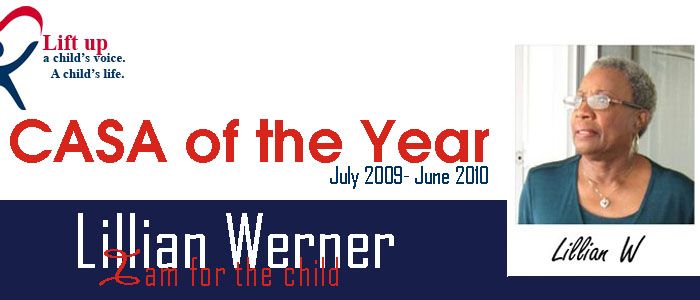 HOMETOWN - Waycross, GA and reared in Savannah, GA
amily - Lillian is the mother of four adult children, Wendel, Erik & Dereck (twins), and Wanda.
Education - Lillian holds a Diploma in Nursing from Grady Hospital School of Nursing, Atlanta, GA. She has a BS in Nursing from Florida International University, Miami, FL, and a Masters in Health Service Administration from Central Michigan University.
Career - Retired mental health nurse (RN) from the Veterans Administration Hospital, Dublin, GA. She lived and worked in Tuskegee, AL, Champaign, IL, San Diego, CA, Miami, FL, Memphis, TN, Augusta, GA, and Macon, GA.
Freetime - She is an avid walker, and enjoys reading, listening to jazz and traveling.
Working with CASA - Lillian has had 2 cases with CASA and worked with a total of 6 children.
How she got started - "I realized that my hobbies didn't take up all of my time and I needed to give time to someone/something of value. Earlier in 2008, I had saved an article from the Telegraph about the CASA program, which gave a website for contact information. Accessing the site and reviewing the information, I decided to complete the on-line application and submit it. This led to a phone call from Terry DiDiego, then Executive Director of CASA, Houston County. She informed me that a new training class was about to start and invited me to attend. I could see if it was something I would like to do, and CASA would see if I would be a "good fit." The training was free....I had nothing to lose. I am now into my third year as a CASA."
Thoughts on CASA's training process - The training was quite extensive and answered every question I could think of...at the time. A thorough background check of all CASA applicants was conducted, and included detailed reference letters. All of this was reassuring as a safe guard against predators. The goal of advocating for a permanent, safe environment, in the best interest of a child of neglect and/or abuse, is a just cause, worthy of my effort and time. The on-going peer group sessions provides an opportunity to discuss issues or concerns I may have. It also allows me to vent re: challenges, disappointments, setbacks, and anger that I've felt as I've worked through my cases. Continuing education is available and required to keep me up to date on current events and legal rules of advocating.
Why does she keep taking cases - Each case has had its own challenges, causing me to ask myself why I tolerate some attitudes, comments or frustrations; after all there are no monetary gains, no gas reimbursements, lots of paperwork and it takes up lots of my time. I ask myself why do I keep coming back? The answer is simple - Because, this is not about me! It is about fact finding to determine what is in the best interest of the child, then reporting my findings to CASA supervisors and the Juvenile Court Judge. When satisfactory resolutions are reached, the "warm fuzzy feeling" I get makes it all worthwhile.
Final words - Helping others is a ministry for me, professionally, as an RN; then assisting the elderly, now, advocating for children of neglect or abuse. It is a ministry!